What are Actions
When you promote a listing, change any of its information or price, you might want to see how it impacted the performance of the listing, So Actions will measure the listing performance a week before the action you took, the period during the action, and a week after the actions.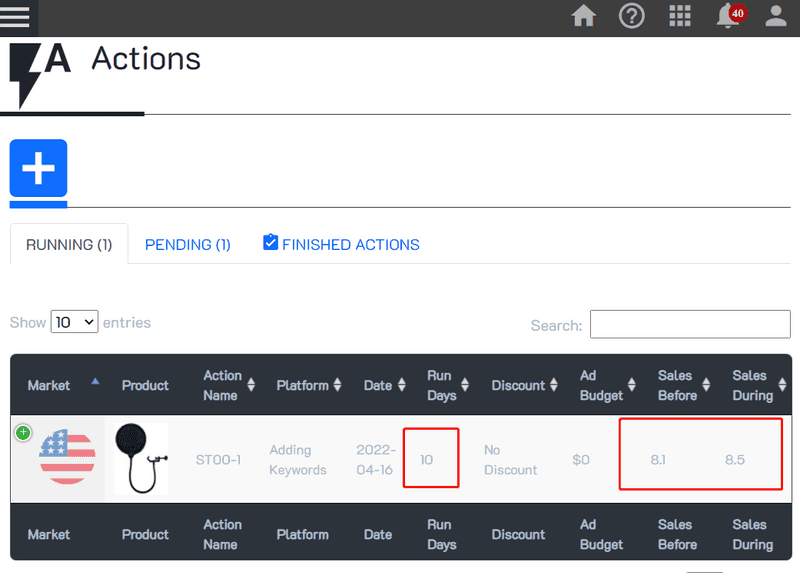 There are many types of actions that can be performed including:
Promotions on Amazon or 3rd party sites.
Ads on Amazon or on Ads networks.
Coupons on Amazon or Coupons networks.
Changes to the product page, including adding keywords, changing images, changing the title, increasing or decreasing the price, or adding A+ content.
Once you create the new action, i.e. Adding Keywords to the item in the image, your action will be at the Pending state until the start date has been reached, then it will be moved to the Running state, once it ran for the specified period, it will be evaluated for 2 weeks, then finally when that ends, it will be moved to the Finished state.
For example, Today is 03/20 and your Action start date is 04/01 and it runs for 7 days:
The system will have your action under the Pending tab, once 04/01 is reached, the Action will be in the Working tab. The system will evaluate the periods from 3/17 to 03/31 and see how the sales went before you started your action, then it will evaluate the action from 04/01 to 04/07 to see how the sales went while you are running the action, then finally, it will evaluate the period 04/08 to 04/21 to see if the sales after the action were sustained, after the date 04/21 the action will move to the Finished state and you can see how it went.
Under the finished state, you can review the performance before you started the action, while the action was running, and the period after the action was done.
From that data, you can decide if your action was a success or not and by how much. you can also keep such valuable data and replicate winning strategies on other products.
Adding an Action
When adding a new action, chose the product, give it a descriptive name so that you can recall it when you have too many of them, and specify its type and its duration.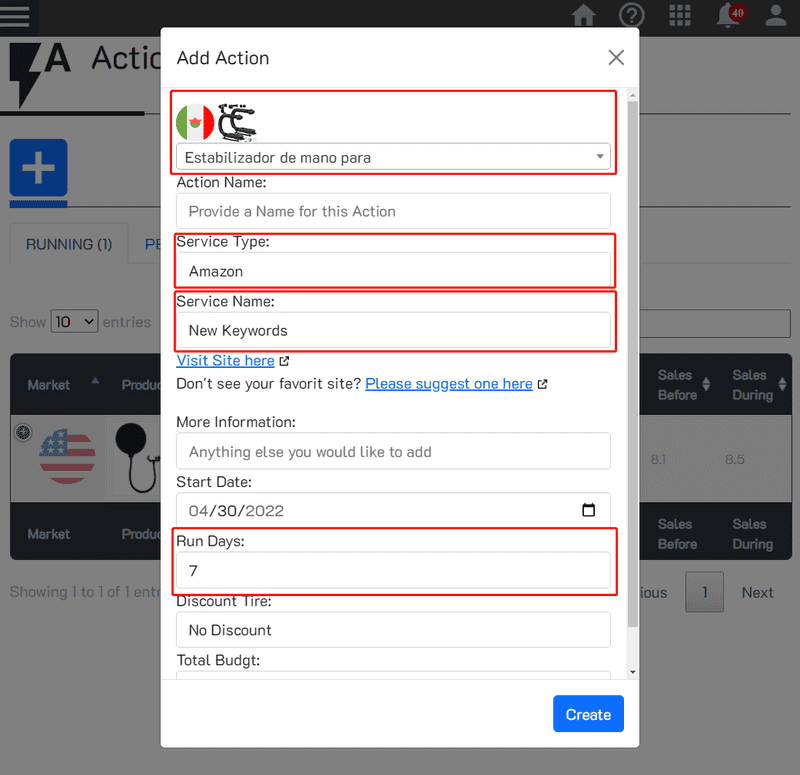 Please Note:
The start date can be in the past as if you have made some changes to the product a few days ago, it does not have to be in the future to create the action.
Your action duration can last from 1 to 14 days.
There are many 3rd Party sites listed that will be continuously updated.