FBA Arrived Shipments
When the shipment has its status changed to Delivered, the system considers it as arrived awaiting it to be received.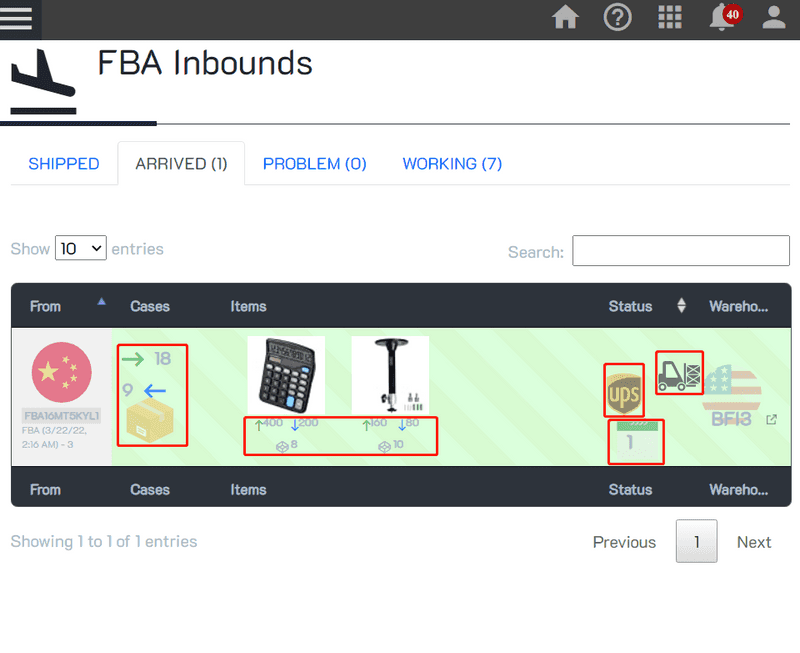 The system tracks the receiving process of your shipment showing how many items and boxes were received, After everything is received, the shipment will be removed as there is no problems to track anymore.
Fields Definitions:
From: The country that the shipment originated from.
Cases: How many cases sent, and how many have been received already.
Items: The items in the shipment including how many cases were sent for each item, and how many pieces were received already.
Status: It includes the shipment courier, If you click on it, it will show you the tracking numbers for this shipment, and by clicking on the tracking number, it would take you to the tracking page of the shipment. Also includes the status of the shipment, if it's checked-in, delivered, or receiving status, and finally, it shows how many days passed since the shipment has arrived.
Warehouse: The designated fulfillment center for this shipment, once you click on it you will be redirected to the seller central page for this shipment.